Charm Farm Barn Dance & Dinner
July 11, 2015 @ 6:00 pm

-

11:55 pm

$18
Barn Dance
The Charm Farm Barn Dance has been a long time in the making… rebuilding and fortifying the structure of the barn, putting in a solid wood floor, putting a roof on the barn, feeding out the hay it was full of, and now putting together the band and callers and everything else to make it happen and happen it will. On July 11th at the Dew Farm (crop land location for the Charm Farm) we'll be hosting the first ever barn dance on the property, and there'll be dinner as well. Here's what you need to know:
what: a square dance in a barn
when: Saturday July 11th, 2015 
where: at the Dew Farm- directions below
time: 6-8 pm dinner served and farm tours, 8 pm-? music and dancing starts 
benefitting: $5 from each admission will go to the West Virginia Food and Farm Coalition, an organization that is working to strengthen our state's local food economies.  Learn more at wvfoodandfarm.org.
dinner: It's a Charm Farm pastured chicken barbecue!  Along with a good helping of the season's veggies and dessert, you'll be ready to dance late into the night.  A vegetarian option will be available as well.
music: TBA but I've got a fine fiddler working on assembling his all star team.  Mike Costello and Becky Hill are currently on the calling docket.  
price: $18 per adult for the whole shebang and a camping spot if you are so inclined.   Kids 6 and up are $9. Five and under and CSA members get in free!
RSVPs: are appreciated by 7/9 via email, call or text but don't fret if you decide to come over last minute just try to give me a head's up.
And of course, don't forget your dancing boots!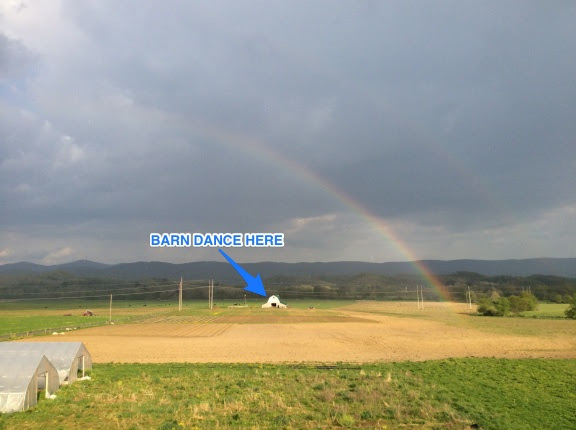 Driving Directions to the Dew Farm from Elkins: once on Georgetown Road, go 5.7 miles past the bridge over the river and you will be looking for a tall 8′ fence along the left side of the road.  You should be able to see a barn and three greenhouses from atop the hill.  Take the next left and you've arrived.
Driving Directions to the Dew Farm from Beverly: turn left on Georgetown Road in downtown Beverly. Go one mile to the stop sign. Turn right to continue on Georgetown Road. Go one mile and you will see a tall 8′ fence on your right.  You will see a shiny metal grain silo and a barn with greenhouses behind it.  Turn right and you've arrived.
Related Events