Paul and Doug have been playing together since 1998. They have taught, alone or together at the Augusta Heritage and Allegh
eny Echoes workshops and have shared billing with Jimmy Webb, Mike Seeger, the Avett Brothers, Bettye LaVaye, Carrie Rodriguez, Michael Hurley and the Chapin Sisters. They love playing for square dances and festivals and are available for YOUR event!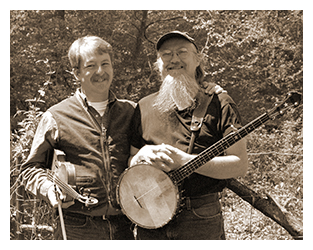 Born Old is Doug Van Gundy and Paul Gartner. Doug plays fiddle, guitar, harmonica, mandolin and vocals, and Paul anchors the music on banjo, fiddle, guitar and vocals. Both are blue-ribbon winners on their respective instruments. Paul is a two-time Ohio State claw hammer banjo champion, and took first in 2003 at the WV State Folk Festival at Glenville. Doug took first place in banjo at the 2008 Randolph County Fair, and is a two-time Ohio State Fiddle Champion. For 12 years they provided the music for the dance competition at the Appalachian String Band Festival, better known as Clifftop.
A typical set includes West Virginia fiddle tunes, and gems from the Golden Age of country music, from legends such as The Carter Family and Uncle Dave Macon.
Born Old has appeared on "Mountain Stage", and at Marshall University, FestivALL, Shepherd University, Fort New Salem, West Virginia University, the Vandalia Gathering, Ohio University, Pittsburgh's Emerging Legend Series, the Edinboro Arts and Music Festival, Pa, New York City, Grand Ledge, Mich., Charlotte, N.C. and at Square Dances in West Virginia from Morgantown to Charleston and Dunmore to Huntington.
Born Old has also produced two recordings, "Born Old" and "Vintage Keys". You can listen to them on the NPR "Mountage Stage" Podcast.
"The two have been playing together since 1997, and they have learned from the best traditional musicians in West Virginia. They have taught at the Augusta Heritage Center and Allegheny Echoes workshops and have shared billing with Jimmy Webb, Mike Seeger, the Avett Brothers and other respected musicians. Playing traditional old-time music from West Virginia with occasional forays into early country music from the 78 rpm era, their shows are traditional and informative while maintaining a high level of fun."